3D Short Films
Gentlemens Duel - 3D Short Films : Blur sets the pace for Oscar season with a stylish, but funny, animated film. Each year for the past four years the crew at the small visual effects studio Blur has created one or more award-winning short films. This year, a film that in many ways represents the studio's most ambitious work, is once again likely to make the short list for an Oscar nomination and could go all the way. It's the first animation from Blur in which the characters have speaking parts; in which the dialog matters. Blur artists Francisco Valasco and Sean McNally, set "Gentleman's Duel," in the 19th century. To vie for the affections of a wealthy woman, a Frenchman named Dubois and an Englishman named Weatherby fight a duel with two peculiar weapons: steam-powered mechs. The seven-minute film won Blur's annual short film idea contest.
Watch Video >
Temps Mort - 3D Short Film
Realise par: Micael LIMA BARBOSA, Laura SABOURDY, Paul D'HERBEMONT. Musique: Jerome Freund, Yann Ledecky, Pierre Fabre
Watch Video >
GOM in a circus - 3D Short Film (Other Language)
In a circus, Gom, a rubber-boy, has to replace inappropriately the artist's assistant during the show.
Gorillaz feat Andre 3000 and James Murphy – 3D Animation
Check out the official video launch for Converse's newest 3 Artists, 1 Song titled "DoYaThing" featuring Gorillaz, Andre 3000, and James Murphy.


Watch Video
Blind Spot - 3D Short Film
Gobelins, l'Ecole de l'Image, Paris, 2007. Co-Directors: Johanna Bessière, Nicolas Chauvelot, Olivier Clert, Cécile Dubois-Herry, Yvon Jardel, Simon Rouby. Award-winning of "La Bourse Lagardere", E Magiciens 2007 Festival for Student Film.


Watch Video
Zoudov - 3D Short Film
Break Ultime - 3D Animation Short film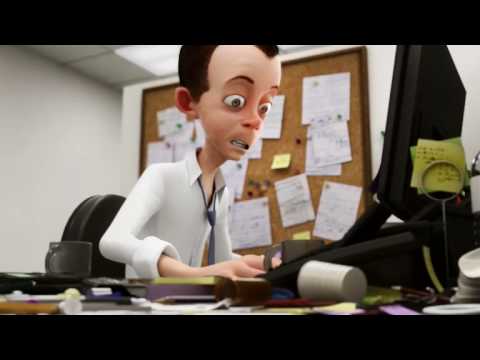 Watch Video
Alarm - Award winning Best 3D Animation Short film
I' m Moo-hyun Jang, a director of independent Animation team, MESAI. The short film tells the story of a young man and his hard fought struggles (against an evil alarm clock) to stay in bed on a bright and sunny morning. The film is hampered by a wafer-thin, excruciatingly paced storyline – but redeems itself with some top notch animation.


Watch Video

HE INNOCENT GREED -3D Short Film


Watch Video
A story of a bored depressed man working in a office whose greed overcame his innocence.....Adaptation : "Black Hole"
Technologies Park


Watch Video
JP Nataf - Come tell me - 3D Animation


Watch Video
Video clip for JP Nataf (Song : Viens me le dire). Worked in animation, red sign on my shots. Made at Sabotage Studio www.sabotage-studio.com
Mobile by Verena Fels - Trailer of Mobile


Watch Video
Playing with light - 2D Short Film


Watch Video
Short directed at Cube Creative during summer 2010 by Gobelins student Louis Thomas, Theo Guignard and Benjamin Moreau.
Salesman Pete - 2D Short Film


Watch Video
Pete is a nice and clumsy salesman. But he's also a deadly super secret agent with a microprocessor implanted into his brain by some mad scientists from the government ! He has to secretly stop a bunch of badguys who stole a magic stone that can change anything into seafood !
Total War: SHOGUN 2 - Trailer


Watch Video
See all 3D Characters | 3D Animation | Animation Video | 3D Short Film | 2D Animation