Claymation
Claymation is a difficult medium to work on. Clay is used to create small figurines and they are setup in a particular stage, photgraphers then proceed to take pictures. The claymation figurines need to be slightly adjusted to get different kinds of shots. Once the pictures are taken and put in a video, you get the feeling that the figurines are actually moving. Great care should be taken to make sure there is continuous lighting and no accidental smudges or nudges take place, to maintain the consistency of the story. Claymation movies are used created for advertisement and other commercial purposes. Nowadays for a full feature film, designers use resin instead of clay to bring in the same effects. For each claymation movie shot, the figurines can be formed and deformed according to the situation. Have a look at these beautiful clay animation movies and be inspired.
Animation studio created by Javier Tostado
claymation - ZIMA by monika kuczyniecka
claymation - Octopus Mom
claymation : This is an animated piece for a HitRecord collab. This is not the version used for HitRecord on TV season 2, but an alternate one with different edit, music, and VO.
Mentos Clay Animation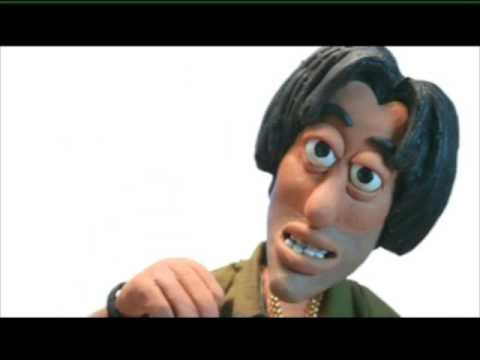 Chunnilal - Funny Claymation movies for BBC
Indian clay animation movie - The Marshalls
Videocon - Clayanimation Commercial
WATCH VIDEO
California Raisins Commercial - Claymation movie
Hotels.com - Tv commercial Claymation movies
Cadburys - Claymation TV commercial animation
Cadbury tv commercial - claymation short video
cadbury commercial - Claymation movies
CADBURY - Claymation tv commercial
Chintamani - Clay Animation short movie
CHINTAMANI ICICI Bank Ad - Claymation movies
Hobo Clown - Claymation movies
George Bush Undies - Funny Claymation short
Birthday Claymation video
Android 207 - short Claymation video
This is a fun stop-motion from Carrotkid of OrangeCore Films based out of Vancouver. Android 207 features an android who is trapped in a mysterious maze which features danger at every turn.
The Mysterious Explorations of Jasper Morello - best claymation video
This marvelous sci-fi animation spins a deep, engaging story of adventure and betrayal. Our hero, Jasper—an aerial navigator—is tormented by an accident in his past. A plague has overcome his home city, and so embarks on a journey to mark a new trade route.
A Short Love Story in Stop-Motion animation
For all the lovebirds out there, a truly gorgeous animation from Carlos Lascano. Watch it with the HD on, full screen, preferably with your sweetie.Plenty of more info on the film at its web page. Plus FilminFocus did a recent interview as part of its future of stop-motion feature, which stars SoTW featured filmmakers Kirsten Lepore and PES
Sweet Dreams - clay animation movie
For your consideration, Sweet Dreams, a totally awesome stop-motion starring a cupcake! Cupcakes are really hot right now it seems, at least here in Seattle. This was Kirsten Lepore's BFA project in 2007, she is a rising star and best of all very web-friendly.Check out more of her work at her website, as well as recent interviews at Illustrationmundo and Frederator.
Billy Collins Action Poetry - Clay animation short
Part of a 2006 collaborative enterprise from the Sundance Channel and the famous J. Walter Thompson ad agency, the eleven poems in the Action Poetry Series, feature the writing of New York's very own Billy Collins, who was the Poet Laureate at the time, and in fact a former Poet Laureate of the whole country.
I Live in the Woods - clay animation video
Our 4th review of the 2009 Sundance online offerings, is a short, violent, and very amusing stop motion. A poem in fact. A warped and absurd little fairy tale, that fits very well into an Adult -Swim geek sensibility which I possess.
Muto - Clay animation short
Often an old story makes a splash when it's told in a new way, given new context, or played out on a larger scale. Muto does all of these. Here, the familiar morph animation takes on a new face where characters animate across the real-life streets and buildings of Buenos Aires.Blu, a street artist based in Buenos Aires, isn't new to animation.
Dad's clock - Claymation
With a background in puppet animation and a thriving commercial practice as an architect, Dik Jarman celebrated the life of his late father in a very special autobiographical account of a complex relationship. Fearing at first that animating the story might be too clichéd, Dik was persuaded by friends and family that it would be both a worthwhile memorial and animation project.
Sorry I'm Late - Claymation movie
As much as I enjoy a film that challenges the intellect, every now and then I feel a strong draw toward one that is simple, smart, and just plain entertaining. Sorry I'm Late is a prime example. The story is light and simple—a man misses his bus and must embark on an adventurous journey home.