15 Best Photoshop Video tutorials - Its time to learn hidden gems
Last updated on Jun 20, 2020
In this post we have included 15 Best Adobe Photoshop video tutorials. Most of the graphic designers spend hours together to get the skin tone correct. It's important to remember that the skin tone should look realistic and not plastic. Usage of adjustment brushes with negative clarity often works like magic. Blemishes and spots can also be removed using the heal brush and clone stamps. The heal brush works like magic on spot cleaning and if there are any irregular shaped or ugly marks, they can be cleared up using the patch tool. Go through our collection of video tutorials for extra inspiration.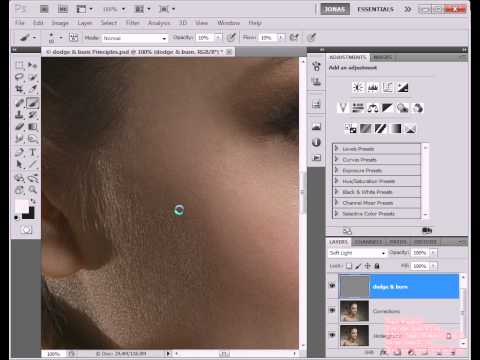 Watch Video
In this video I'm going to give you an overview over the basic principles of the dodge & burn technique. This'll cover the micro (or pixel-level) dodge & burn as well as the macro level dodge & burn (alias sculpting).
Learn how to retouch a studio portrait using the clone tool to retouch the skin, pop the eyes using the dodge & burn tool, even change eye color. Learn how to add a vignette and also brushes that could be used to add eye lashes or cool stamps to the image.
A great skin smoothing technique that maintains texture while it softens!
Here is another one preview of my upcoming tutorials on photo retouching using photoshop. Smothing skin(Dodge and Burn technique) Luscious Lips Tone Corrections Skin Color Corrections Light Corrections Hair Construction
This Photoshop CS6 tutorial introduces the Navigator panel and demonstrates how to use shortcuts, zoom value, Proxy preview, and more.
This Photoshop CS6 tutorial discusses how to work with the Brightness interface and space board in Photoshop CS6.
This specific tutorial is just a single movie from chapter fifteen of the Photoshop CS6 Essential Training course presented by lynda.com author Julieanne Kost. The complete Photoshop CS6 Essential Training course has a total duration of 10 hours and 35 minutes, and demonstrates how to produce high-quality images in a short amount of time using a combination of Adobe Photoshop CS6, Bridge, and Camera Raw.